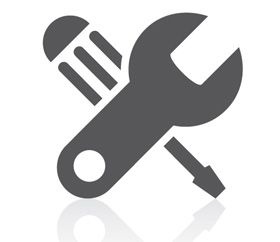 GoTek Energy's® DynaKinetic™ engine, compressor, pump, and gas motor product designs were engineered up front with serviceability in mind.
DynaKinetic™ technology has a power module inserted into a sleeved housing with two cover plates.  In most rebuild cases, only the power module with all the moving parts is removed and replaced for remanufacturing by GoTek Energy®.  To do this, one cover plate is removed to expose the power module.  With a splined crankshaft, it can then be easily removed from its coupling transmission, electric motor, or generator.  When needed, the sleeve can also be removed from the "clam-shell" housing.
With the significantly reduced size (specifically the axial length) of the DynaKinetic™ engine, the power module can be removed in a motor vehicle application without unhooking the intake, the exhaust, the electrical systems, and removing the engine.  By simply shifting the engine mounting towards the firewall and using a splined slip-fit main crankshaft coupling mechanization, this can be easily accomplished.  This is extremely beneficial in very high mileage applications such as in commercial trucks where engines are often rebuilt 4 times over the life of the cab.  This translates into less rebuild labor cost and even more importantly less downtime.